WHAT IS A VISA?
A Visa is an official document that allows the visa holder to ​legally enter a foreign country.
You need to be aware that each country has its ​own Visa Policy​, which means that you will have to provide specific documents and act in a particular way.
Because of an increasing globalisation, many countries around the world have ​bilateral visa policies​, which means that some countries will allow you to ​travel visa-free​to each other's home country.
Not sure if you can ​travel visa-free​as a U.S citizen and ​for how long​in your dream country? Check out this article and for more details you can always find the ​official government immigration website​of the country to want to visit or use an agency like ​IaM to take you through the process easily..
1
THE 8 TYPES OF VISA
Depending on your situation​, you may apply for an ​Immigrant​or ​Nonimmigrant Visa​:
1 ​Tourist Visa​= (Short Stay or Long Stay) = for ​leisure travel ​only
2 ​Refugee/Asylum Visa = for people "​being persecuted for reasons of race, religion, nationality, membership of a particular social group or political opinion" and is currently outside of his/her home country (Definition of a refugee by the ​United Nations 1951 Convention Relating to the Status of Refugees)​ or a person who has applied for recognition as a refugee. This is technically not a visa.
3 ​Spousal Visa = ​allows a married partner to ​immigrate to the home country of his/her husband/wife​(the spouse will be able to work or study after the visa has been granted)
4 ​Student visas​= for ​studying abroad ​or doing an i​nternship
5 ​Business and Work Visas ​= ​depending the country, the business visa might include (short term or long term work visa)
Temporary worker for charity, religious worker, seasonal worker,… Visa
Entrepreneur Visa
Exceptional Talent/Ability Visa
Intracompany Transferee Visa
Individual or Team Athlete Visa
Artist Visa
Investor Visa
Start-up Visa
Innovator Visa
…
7 ​Working Holiday Visa
You can apply for a Working Holiday Visa in one of the 60 following countries only:
Andorra, Argentina, Australia, Austria, Belgium, Brazil, Canada, Cyprus, Chile, China, Colombia, Costa Rica, Croatia, Czech Republic, Denmark, Ecuador, Estonia, Finland, France, Germany, Greece, Hong Kong, Hungary, Iceland, Indonesia, Ireland, Israel, Italy, Japan, Latvia, Lithuania, Luxembourg, Malaysia, Malta, Mexico, Monaco,Netherlands, New Zealand, Norway, Peru, Philippines, Poland, Portugal, Romania, Russia, San Marino, Singapore, South Korea, Slovakia, Slovenia, Spain, South Africa, Sweden, Switzerland, Taiwan, Thailand, Turkey, United Kingdom, Ukraine, Uruguay, Vietnam.
The main condition is that you are between ​18-30 years old​. The Working Holiday Visa is usually for a ​12 months stay​, and like the name suggests, allows you to work whilst on holiday in that country.
2
8 ​Transit Visa
The Transit Visa only allows you to ​enter a foreign airport​through the international zone (usually to change planes), without entering the country's territory. Sometimes, where you need to leave the airport, like an overnight stay, you can also apply for a transit visa.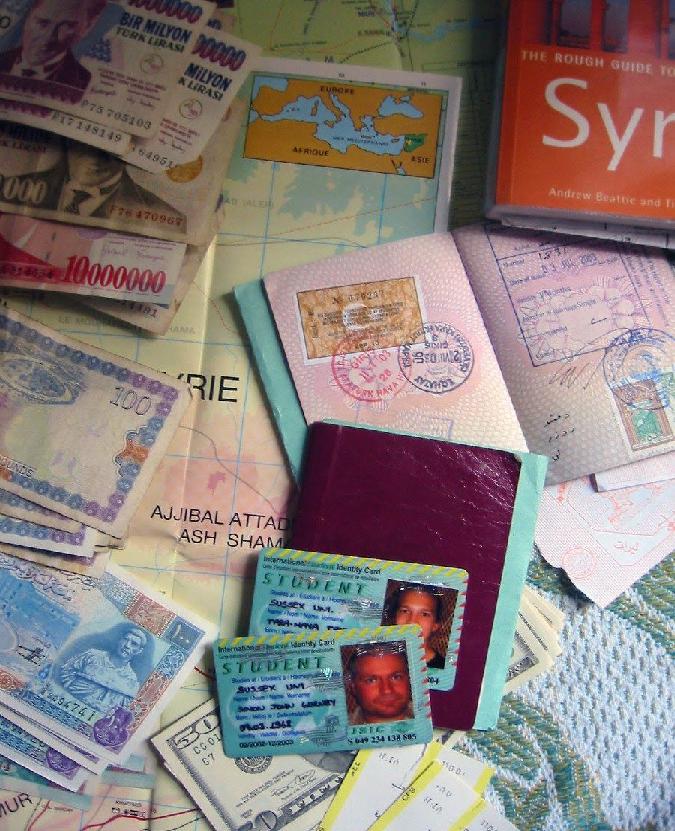 On this article, we will ​focus on the Travel/Tourism Visa​:
Before applying for a Travel Visa, you need to answer yourself the following questions::
What is your nationality?
Where do you plan to travel?
For how long do you wish to stay in a particular (or several) country?
3 main kind of visas​:
Single ​entry: you can enter the country only once
Double​entry: you can re enter the country for a second time after you left it within a certain period of time
Multiple​entry: you can go in and out the country as many time as you want within a certain period of time (usually several years)
3
For many countries you don't need a travel visa to travel to many countries. As an American citizen, you don't need a visa to visit ​171 different countries​of the world!
The US Passport is currently ranked #3 on the world's most powerful passports as ​US citizens can travel ​visa-free to 118 countries and you can get ​53 visas on arrival​. Visa on arrival means that you will be given a visa when you turn up at the border by an immigration officer. As long as you meet the requirements below, for tourism, you should be granted a visa.
Only 27 countries​require you to obtain a visa ​before​arriving in the country
Then for which countries do you need to apply for a tourist visa?
AFGHANISTAN
ALGERIA
BENIN
BHUTAN
BURUNDI
CAMEROON
CHAD
CHINA
CONGO
ERITREA
IRAN
IRAQ
LIBERIA
LIBYA
MALI
NAURU
NIGER
NORTH KOREA
PAKISTAN
RUSSIA
SOUTH SUDAN
SUDAN
SYRIA
TURKMENISTAN
VENEZUELA
YEMEN
Check out the details on the procedure for some of the ​most demanded countries​below!

SCHENGEN COUNTRIES
As a US citizen, you can ​travel visa-free to any of the 26 countries members of the Schengen Area for a ​maximum of 90 days within a 180 days period (because of the three fundamental rights guaranteed by the EU to its citizens or visa holders: the rights to live, work and travel within the European Union)
4
Countries members of the Schengen Zone: Austria, Belgium, Czech Republic, Denmark, Estonia, Finland, France, Germany, Hungary, Iceland, Italy, Latvia, Liechtenstein, Lituania, Luxembourg, Malta, Netherlands, Norway, Poland, Portugal, Slovakia, Slovenia, Spain, Sweden, and Switzerland.
Be aware that even if the Schengen Area encompasses most EU states, some are not part of the Schengen Zone: Bulgaria, Croatia, Cyprus, Ireland, Romania and the UK.
However, you ​might need to apply for a Uniform Schengen Visa (which gives you the exact same rights) if you are a ​US resident who is originally coming from a country that has not established a visa-free regime​with the European Union.
If you are not a national of one of the following countries, you must apply for a Schengen Visa:
Albania, Andorra, Antigua and Barbuda, Argentina, Australia, Bahamas, Barbados, Bosnia and Herzegovina, Brazil, Brunei, Canada, Chile, Colombia, Costa Rica, Dominica, El Salvador, Georgia, Grenada, Guatemala, Vatican City State, Honduras, Hong Kong, Israel, Japan, Kiribati, Macao, Malaysia, Marshall Islands, Mauritius, Mexico, Micronesia, Moldova, Monaco, Montenegro, Nauru, New Zealand, Nicaragua, North Macedonia, Palau, Panama, Paraguay, Peru, Saint Kitts and Nevis, Saint Lucia, Saint Vincent, Samoa, Serbia, Seychelles, Singapore, Solomon Islands, South Korea, Taiwan, Timor-Leste, Tonga, Trinidad and Tobago, Tuvalu, Ukraine, United Arab Emirates, Uruguay, Vanuatu, Venezuela
Be aware that you must apply for the Schengen country you want to visit ​first​, and ​for the longest time​. In any case, you will be able to travel to the other 25 countries within a 180 days period.
From January 01 2021, the ETIAS will launch and come into effect. It is pretty much the European version of the visa waiver program for the US. For US citizens, you will need to apply for an ETIAS​to enter Europe.

AUSTRALIA
As a U.S. citizen, to travel to Australia for holiday for ​up to 3 to 12 months​, you can apply for 2 types of visas:
Electronic Travel Authority ​(subclass 601)
Stay up to 3 months each time you enter Australia in a 12 month period of time
Visa fee: free (AUD$20 fee if applying online)
2. Tourism stream
Stay up to 12 months
Visa fee: AUD$145
Processing time: 17 to 28 days

NEW ZEALAND
5
Because the USA is a visa waiver country, you ​don't need a visa for New Zealand if you intend to travel for up to 90 days​.
However, since October 2019, you need to get a ​New Zealand eTA​, even for short stays.
The application is made online and you will have an answer within 1-3 business days.
It will cost you about NZD $9 (using the app) to NZD $12 (if completed online), and you will also have to pay an International Visitor Conservation and Tourism Levy (IVL), which is NZD$35.

​CHINA
You will need to apply for the ​L Visa​, which is a visa valid for ​up to 3 months​. You can also apply for a double entry visa for 6 months and a multiple entry visa for 6, 12, 24 months, or even 10 years.
As an american citizen, you will have to pay $140 for a single, double or multiple entry(ies) visa. You will also be able to ask for an extension at least seven days before your visa expires.
Now that you know better about the different types of Visa and their validity, check out our ​blog​articles to get travel tips!
French lawyer specialised in International Law, currently working for ​IaM​, a British legal office in London that specialises in passports, visas and immigration.